Photo illustration by Michele Abercrombie
At one Indianapolis juvenile detention center, residents are given the chance once a month to participate in a shelter dog training program.
The week-long Pawsitive Corrections program, run by the therapy dog nonprofit Paws & Think, is held at the Marion County Juvenile Detention Center. Each month, five shelter dogs from Indianapolis Animal Care Services are brought to stay at the center for one week, where 10 residents conduct obedience training along with volunteer trainers.
Since 2013, more than 300 dogs and more than 600 incarcerated minors have been impacted by the program.
In order to participate in the program a resident must be on good behavior, said Kimberly Trimpe, Youth-Canine coordinator. Not only does it provide this incentive, but often the kids can empathize with the dogs they are working with.
"A lot of these dogs come from bad situations [and] have had neglect or abuse histories, too," Trimpe said. "And that helps the kids to empathize, it really helps them understand communication and to be able to read the dog."
Trimpe has been with Paws & Think since 2011 and said that's when the Pawsitive Corrections program started becoming more regular after a period of intermittance.
Terrance Asante-Doyle, superintendent of the detention center, said in a 2017 video that the Pawsitive Corrections program not only is important to him but is a "mainstay" at the center.
"I see the impact it has on the youth," Asante-Doyle said. "You can see the excitement that the youth have in just being able to interact with a canine."
The first day of the program involves going over training strategies with the participating residents, and an emphasis on using positive reinforcement, Trimpe said. On Tuesday, the dogs arrive and stay until Friday, with the actual training lasting an hour each day.
"It's amazing what they teach them in four days," Trimpe said, adding that the hope is to eventually extend the program if circumstances allow.
Though training is only an hour long in the afternoon, volunteers are needed until the evening to spend time with the dogs and make sure their needs are met. Trimpe said they also encourage the detention center staff to allow the residents time with the dogs outside of their training.
Wendy Lane, longtime Pawsitive Corrections volunteer, said she has seen the program make kids more confident in themselves after their participation.
"I think the majority don't hear what they do right, it's always what they've done wrong," Lane said. "Doing this program (has showed me) that they're still kids that have the same wants and dreams as any other kid that's not in that situation."
Asante-Doyle said he has seen kids turn their behavior around immediately when they find out they can be part of the program.
"Not only does it help with behavior, but we're also doing a service to the community as far as being able to help these dogs become more adoptable," Asante-Doyle said.
A few years ago, Lane walked into her downtown CVS and the security guard stopped her. He recognized her from the program, and told her that he looked forward to it every day when he participated.
"He said that program got [him] through having to be [in the detention center] … he still remembered his dog's name," Lane said.
This encounter represents exactly what Paws & Think is trying to do with the Pawsitive Corrections program, Lane said, by leaving a positive impact on vulnerable kids.
Lane herself has benefited from the program: her therapy dog, Liza, was a shelter dog that graduated from the training before Lane adopted her in 2014. Today, she brings Liza to the detention center on Saturdays to interact with the kids and said it's where Liza enjoys therapy sessions the most.
"The kids gave her a second chance, and I feel like she's just like giving back to the kids," Lane said. "I like to tell the kids that because the kids do make a difference in these dog's lives. And hopefully the dogs and this program make a difference with the kids. I think it does, and I think that's what keeps it going, because we do see changes."
Source photo courtesy of Paws & Think.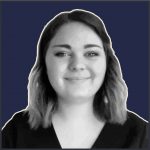 Jana Allen is a print journalism senior at Gaylord College of Journalism and Mass Communications at the University of Oklahoma. Originally from Muskogee, Oklahoma, Allen previously interned at The Oklahoman and worked as a reporter and assistant desk editor at the OU Daily, the university's independent student news organization. At The Daily, Allen has published several stories on university sexual harassment allegations and was awarded 1st and 2nd place in in-depth reporting from the Oklahoma Press Association in 2019. She also was a Society of Professional Journalists Mark of Excellence regional winner in 2019 and 2020.