Photo illustration by nicole Sroka
Aaron Kinzel still struggles to process trauma that follows over a decade after his release from imprisonment as a teenager. Now as an adult, he hosts art therapy workshops to help others overcome the effects of youth incarceration.
Kinzel is now the director for the Youth Justice Fund, a Michigan-based nonprofit that supports former child offenders as they re-adjust to life beyond bars. He strives to help men like himself work through their mental health issues and reacclimate to society in mental health support groups with formerly incarcerated men and art workshops where participants work with their hands to release repressed internal issues.
"It's not just art," said Kinzel. "But to re-enact some traumatic event. To me, it's really cathartic."
Kinzel spent the latter half of his teen years in the juvenile justice system and most of his 20s in adult corrections centers in Michigan and Ohio. During his first three years as a teenage prisoner, he cycled in and out of solitary confinement for aggressive behavior and stayed for as long as 10 months at a time, he said.
He said the demons he envisioned in the system now inspire his creations. His most recent project "re-enacts" a hallucination he remembered from solitary confinement when he went three days without water.
For this project, Kinzel poured clay into a piece of bronze metal, creating the image of a skull layered over his face.
It's the exact image he visualized as a kid, he said.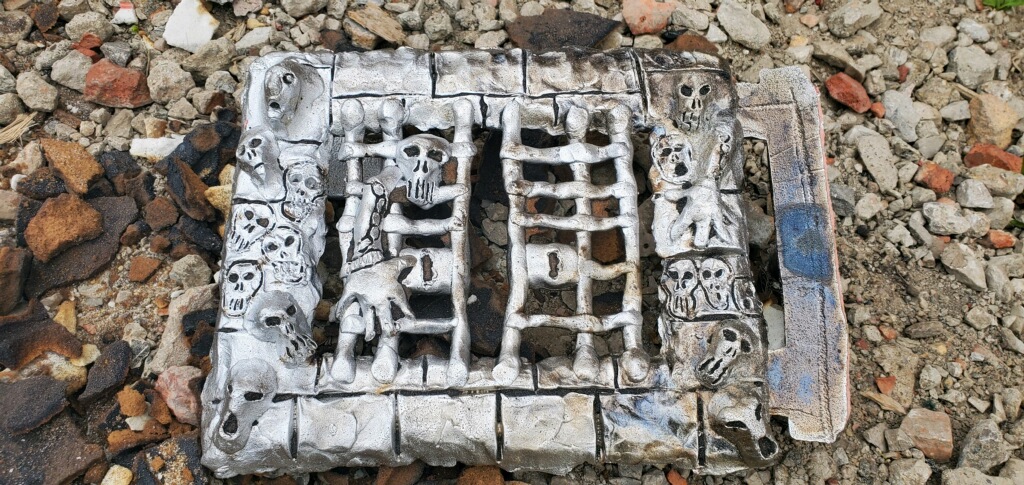 Creating a tangible version of his mental image using clay and bronze helps him overcome trauma in his past and quite literally puts the power back into his own hands, he said. Kinzel's most recent project required months to complete.
Many of the individuals Kinzel works with failed to receive the mental health and trauma-informed support they needed while they were imprisoned, he said.
"When I first came home…I was so screwed up mentally from this experience that I couldn't connect with my wife. She didn't understand why I was getting these PTSD responses," Kinzel said. "Trauma is deeply embedded in your psyche."
A 2017 literature review by the Office of Juvenile Justice and Delinquency Prevention showed that many kids in the system faced trauma or violence before they were incarcerated, and observed that difficulties youth faced while entering the system could exacerbate existing conditions while increasing their likelihood of returning.
Other former child offenders have joined alongside the Youth Justice Fund in embracing art therapy. Lorenzo Harrell, 44, similarly struggled to speak his feelings as a child in an adult prison.
Growing up in Detroit, Harrell attempted to steal a Michael Jackson jacket with his brothers. That day, at the age of 9, Harrell was arrested for the first time.
He spent the remainder of his childhood in and out of arrests and alternative placement until he was placed in an adult correctional facility. In total, Harrell estimates he spent 26 years incarcerated.
Today, Kinzel places a personal emphasis on helping others break through stereotypical expectations of masculinity, he said.
"Men are supposed to be masculine. We're supposed to run the shot and run the world, which is really a false narrative," Kinzel said. "Men can be emotional."
The idea for the mental health support groups, also known as Wednesday Wellness, originated with Harrell.
"That's when you normally see a lot of guys similarly situated to myself, guys who spent decades in prison come out and really talk about what they're going through," Harrell said. "All of us are going through things."
Harrell also participated in the art workshops, he said, presenting his creation as a gift to his mother on her birthday.
Shaping clay and metal, Kinzel invites fellow formerly imprisoned kids to share a safe space, working with their hands to confront the injustice and trauma of the past through their artistic expression as adults.
"We're taking something that's thrown away –– garbage that's rusting away –– and we repurpose it," Kinzel said. "It's kind of a good analogy of our lives."
Source photo courtesy of Aaron Kinzel