Illustration By Michele Abercrombie
Charleston White, like millions of American children, grew up in a father-absent home. Although his mother was his main caretaker, he said nothing could replace a father's presence.
"I know what abandonment is," White said. "I know what it's like to feel unloved. I know what it's like to feel unwanted. I know what it's like to feel rejected as a child."
An estimated 19.7 million youth live in fatherless homes, according to 2017 data from the U.S. Census Bureau. Family structure, specifically single-parent or father-absent homes are factors in a child's overall development and well-being, according to the Annie E. Casey Foundation.
Research from the National Fatherhood Initiative shows that father-absent households are more likely to experience poverty and financial hardships. Fatherless children are more likely to have behavioral issues like depression, and engage in illegal activities like using drugs and drinking alcohol.
His mother worked long hours to support White and his brother, which left time for the two siblings to get into trouble.
White, who is now 43, said he was eager to find a place where he belonged and searched for affirmation from the men in his Arlington, Texas, neighborhood. He ultimately became involved in gangs at an early age, committing crimes for acceptance.
"When I was presented with something to be a part of whether it was good or bad, I just wanted to be a part of it," White said. "I wanted to have a family, and I felt like I didn't have a family."
Gang activity led White to the juvenile justice system when he arrested for murder at age 14. He spent about 6 1/2 years in the Texas Giddings State School. White's experience is not an isolated one.
"There are so many children who make mistakes as children because they're in pain," White said. "They don't know how to process the pain."
Fatherlessness has been identified as a "key contributor to juvenile delinquency," according to a University of California, Irvine study.
The more opportunities a child has to interact with their biological father, the less likely he or she is to commit a crime or have contact with the juvenile justice system, a Boston College study stated.
Tierre Webster, executive director of Damascus Way Reentry Centers in Minnesota, said fatherlessness is "one of the top social epidemics this nation is facing," alongside mass incarceration.
"Fathers matter, and they matter for so many reasons," Webster said.
Certain groups are impacted by fatherlessness at higher rates. Youth of color are more likely to live in fatherless households, Webster said.
"If you break down the data, two in three Black homes, one in three Latino or Spanish-speaking homes, one in four white homes [are fatherless]," Webster said.
Edgar Ibarra, a 27-year-old advocate with MILPA, a nonprofit in Salinas, California, said his father was incarcerated for 13 years. This led him to look for male guidance elsewhere.
"There was really no real father figure around for us," Ibarra said."The people that we looked up to [were] just kind of like the guys hanging out around our blocks, around the neighborhood. They didn't even know how to navigate life."
Parental criminal behavior is also related to delinquency, Webster said.
"That data tends to really be increased if a child has a father that's incarcerated," Webster said.
Ibarra's first arrest at age 15 for assault and robbery felt like a normal step in his life, he said.
"This was kind of like [my] trajectory," Ibarra said."This is what's supposed to happen."
A child's relationship with a father is important for both individuals — especially for children with incarcerated parents. Fathers who have a meaningful relationship with their child are less likely to reoffend, Webster said.
"We can't assume that just because a father has failed in one area of life, [they're] going to be an unsuccessful father," Webster said.
White, now 43 and a father himself, founded Hyped About HYPE (Helping Young People Excel), a youth outreach program with a goal to keep kids out of the juvenile system. He uses his platform to speak about the changes he hopes to see in the Fort Worth, Texas, community he serves.
"So how do you restore the fathers back to the heart of the children? And how do you restore the children back to the hearts of the father?" White asks, answering his own questions.
White's said delinquency prevention starts at home with positive male guidance.
"That's where your justice lies, not in [the] program. Not in [the] institutions," White said.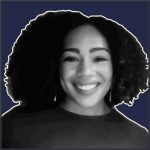 Mikhayla Hughes-Shaw is a recent graduate of the University of Iowa with a journalism and mass communication degree and a Critical Cultural Competence certificate. Originally from Rock Island, Illinois, she worked as a peer mentor for the University of Iowa School of Journalism, providing academic and social support to journalism majors. She was a news intern for KWWL-TV, in Waterloo, Iowa, and KWQC-TV in Davenport, Iowa, which covers the Quad Cities area of southeastern Iowa and northwestern Illinois. She serves as a co-host for "LOVE Girls the Podcast," designed to empower girls, in partnership with LOVE Girls Magazine and WVIK, an NPR station in the Quad Cities. Hughes-Shaw was Miss Iowa 2018.